Air duct are connected to a main ventilation system and allow air flow to be directed into specific part of a home are building.  So air exchanger as well as central heating or cooling system will use air duct to distribute air into the whole place.  Air duct can push air or take back air.  Then a ventilation system need to be well balanced to insure a good distribution of the air.  We talk about hot air, cool air or just fresh air.
Air duct size
Commercial air duct
Commercial air duct will vary in size moore thant residential so in some case commercial air duct are big enought so a man can get into if needed for inspection, maintenance or cleaning.  Bigger building will have bigger size air duct.  Larger air duct are made to allow a moore powerfull ventilation system to carrie a larger amount of air per minute.
Residential Air duct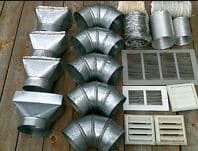 Most residential air system will include to main rectangular duct.  One that push and one that bring back air to the central heating/cooling ventilation system.  Than secondary air duct are smaller circular duct connecting each room of a home ar an office.
Air duct concetpion
Tinsmith are the professionnal responsible of the assembly, installation and maintenance of air duct system.
Most air duct or maiden of thin metal and are just assembly together with small metal screw.  Sometime duct are maden of flexiblematerial, can be aluminium or plastic.  Aluminium is safer for dryer vent duct as plastic one may cause some fire incident.  Home secondary air duct are typically 4,5 or 6 inches of diameter.
Air duct cleaning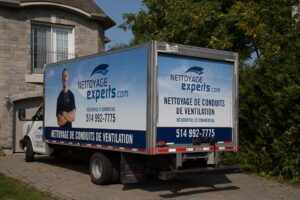 Air duct occasionnaly needed to be clean, as they accumulate dust, small object, mildew, bacteries and moore pollution.  Air duct cleaning should be provided by professionnal using specialised equipment to get dirt out their all the way long into ducts.  Air duct cleaning will eliminate construction debri in new house duct system and in air duct from a building after important renovation as well. Read moore about air duct cleaning
Contact us now to get your free quote