ENTRUST YOUR DUCT CLEANING NEEDS TO US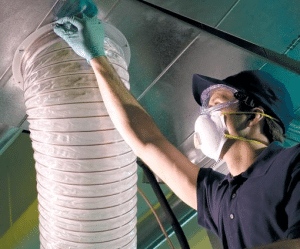 Duct cleaning: Nettoyage Experts is offering the most powerfull mounted-truck four air duct cleaning in the province, "2017 Consumer Choice" in cleaning. You can now enjoy a 20% discount on the price of our AIR PUR package and many other great offer.
Call us to find out more about our promotions. Our receptionists are ready and waiting for your call from Monday to Friday from 8 a.m. to 8 p.m., as well as Saturday from 9 a.m. to 4 p.m. It's not the right time to call? Fill out our online request form to tell us the best time to reach you – don't miss this opportunity.
In addition, for commercial duct cleaning, our experts are available during the day, evening or on the weekend to meet you for a free on-site estimate.  Residential duct cleaning available 6 days a week, get your free quote riht now, just call us.
THREE GOOD REASONS TO CHOOSE NETTOYAGE EXPERTS FOR DUCT CLEANING
1- First, our superior equipment: You will not find equipment more powerful or efficient in air duct cleaning anywhere else.
2- Next, our skills: Nettoyage Experts owes its name to our highly experienced and trained staff. We hire tradespeople who have specialized in duct cleaning for at least 10 years. Some of our cleaning experts have 30 years experience in ventilation system maintenance. They share all the tricks of the trade that money cannot buy yet often make a big difference – this is the expertise that makes up Nettoyage Experts.
3- Finally, our reputation with our customers: Nettoyage Experts is Consumer Choice Award for several years, according to a large independent survey conducted among thousands of consumers in the Greater Montreal area, including the North and South shores.
Also, keep in mind that Mr. Pierre Déry, President of Nettoyage Experts, is a well-known cleaning industry reference who has given interviews to newspapers and magazines, such as La Presse, Coup de Pouce, Châtelaine, and many others, in which he provides professional tips and advice.
Call us to book your duct cleaning at a promotional rate that doesn't compromise on quality. We guarantee your satisfaction.  If needed, we can also provide with great carpet cleaning to contribute getting de best solution for air quality together wiht our good duct cleaning
Take advantage of our promotional packages to have your air duct cleaning at the best price
Our receptionists are waiting for your call. They are available seven days a week, and evenings from Monday to Thursday. If we're closed, use our express request form. Don't leave without requesting your free estimate. We will offer you the promotions that will benefit you the most according to the ventilation system you have to clean.
1- Our AIR PUR package – the most popular solution for duct cleaning
Our basic duct cleaning package already includes the furnace, coils, air supply and return ducts, filters, and grilles.
In addition, our popular AIR PUR package includes a natural antibacterial treatment as a bonus, as well as the cleaning of your dryer duct. The air of any house or building is completely purified and circulates more efficiently in your air system has during duct cleaning process every dust is going outside into our cleaning mounted truk.
AFFORDABLE DUCT CLEANING
We have been cleaning air ducts for over 30 years in Montreal, Laval, on the North and South shores, and in the cities of Québec and Ottawa. Don't forget to get your free estimate – apply now to save without compromising on the quality of your indoor air. Call one of the following numbers: 514 992-7775, 450 970-3363 or 418 210-0156. Use our online contact form for a response in less than 24 hours.
CLEANING THE ENTIRE VENTILATION SYSTEM
Our duct cleaning method includes all system components. Note that duct cleaning is recommended once every five years.
In addition, we offer economical packages when you combine the cleaning of your heating and air conditioning systems with that of an air exchanger system.
OUR DUCT CLEANING EQUIPMENT
UNMATCHED VENT DUCT CLEANING THANKS TO OUR EXCLUSIVE POWERFUL TRUCK-MOUNT.  We are talking about 16 000 cubics feet of air perminute from you house to our truk.
Our truck mount duct cleaning service is a first-class solution for improving the quality of the air that you and your loved ones breathe. The equipment installed in our trucks is the most powerful on the market and few companies have it. As a good consumer, keep in mind that it is not the truck that does the job but the equipment in the truck and the skill of the technician – that's where we stand out. BEFORE YOU LET A DUCT CLEANER IN, CHECK THEIR EQUIPMENT.  You don't want to paid a full price to get a half job done.
Our duct cleaning system uses drive, friction and suction, the most widespread and efficient method in the industry. Nettoyage Experts distinguishes itself from other companies by drive, friction and suction power that surpasses all competitors. This clearly increases the quality of the work done, especially in hard-to-reach places where dust accumulates. Our equipment is designed to operate at optimal strength when used with a 150- to 200-foot hose – just what it takes to connect your ventilation system to our truck.
To give you an idea, our duct cleaning equipment has a mass of 4,000 pounds and draws in excess of 16,000 cubic feet of air per minute. To transport the equipment, it had to be installed on a heavyweight truck, with a 16-foot bed.
Cleaning with our own equipment gives us an undeniable competitive advantage, since we save time while ensuring superior cleaning quality. Our equipment also allows us to avoid going up and down stairs with a large, heavy, portable machine that risks leaving marks on your walls or worse, damaging wooden staircases.
DURING DUCT CLEANING, THE DUST IS SUCKED INTO THE TRUCK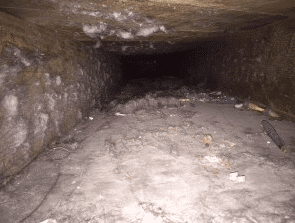 Remember that household dust is highly contaminated, according to numerous studies, including a Healt Canada dust study in Canadian and Québec homes. Dust that accumulates in the dark areas of your ducts provides perfect incubation for the growth of mould, bacteria and mites. Worse, studies conducted here and elsewhere in the world show that household dust contains elements hazardous to health, such as heavy metals and many other chemicals. Dust picks up these toxic particles and provides a vehicle for transporting them into the air you breathe.
TRUCK-MOUNT OR PORTABLE MACHINE?
With our process, you can therefore feel assured that the dust is sucked out of your home directly in our truck. In fact, using portable machines with HEPA filters may not be as effective as expected. Portable machines used by most companies have been around for decades and are often in questionable condition, increasing the risk of leaks that then return dust to the air in your home.
DETAILED DESCRIPTION OF OUR DUCT CLEANING METHOD
1- Your system is turned off and air stops circulating. We temporarily install a hose that will connect your duct system to a suction mechanism in a truck outside. The air is sucked through this hose and expelled from the building by extreme suction power.
2- As air is sucked into the truck, each air trap is lifted and cleaned, then a compressed air cleaning nozzle is introduced into the duct. The nozzle will furrow inside the duct to clean it. The nozzle acts in two ways: In addition to blowing dirt out of the duct with powerful jets, the nozzle brushes or whips the duct interior. The nozzle selected for dislodging the dust is made of rubber spaghetti, the only instrument that can rotate in the narrow bends of private residences.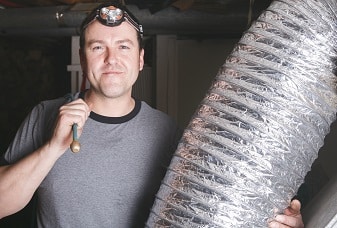 The choice to use a brush or a rubber nozzle is made according to the size of the duct to be cleaned. The nozzle must be the correct size to produce adequate friction against the wall of the duct. For proper rotation in duct system bends, a rubber whip nozzle is unbeatable; for wider, rectangular ducts, a larger brush will be more efficient. Trust our experts to proceed in the best way with the right instruments to achieve the best results for your duct system.
When all the ducts and diffusers have been cleaned, we also clean the furnace, fan, filters, and coils. These items are included in our packages because we consider it essential for everything to be cleaned.
3- Finally, as an option, we recommend an extract of concentrated thyme, spread throughout the ducts by a simple misting process. The fine mist of this natural extract has powerful antiseptic properties against mould spores and bacteria. This product has no health risks and can even be ingested without side effects. We use a small machine to blow the solution into your furnace fan after it restarts following cleaning. Treatment is offered for $80. GET IT NOW FOR FREE
We also check and clean all system components, such as the coils, filters and blower. Any anomalies in your system will be recorded in the report made by the technician.
DUCT CLEANING PRODUCTS
DUCT DISINFECTION
We recommend a disinfectant to sterilize the interior of the heating, air conditioning and ventilation systems to eliminate the presence of mould spores or other harmful microorganisms. We use a natural product sold under the BENEFECT brand name.
BACTERICIDE: YES… OR NO?
YES... IF IT IS A NATURAL PRODUCT. No products are currently registered with Health Canada. However, there is a natural way to ensure that you and your loved ones are well protected. According to Canadian standards on product labelling, products must be studied. The label of our natural product clearly indicates that it is less toxic than vinegar. It's like water.
THE BEST COMPLEMENT TO DUCT CLEANING: 100% NATURAL BENEFECT THYME EXTRACT
Nettoyage Experts is CURRENTLY OFFERING our optional MISTING solution FREE OF CHARGE, so there is no need to go without.
An essential oil extract of 100% natural thyme that is safe for your health is distributed throughout your ventilation system to ensure the perfect sanitation of indoor air. The treatment works specifically against dangerous mould spores and bacteria.  Then you can tell you had the best duct cleaning done  at your place..................
We can assure you that the product we use, marketed by Benefect, is considered by Health Canada to be safe when inhaled or swallowed or when it comes in contact with eyes or skin.
The product is simply harmless, so you can protect yourself against the presence of mould spores in your system, free of charge, and without bringing chemicals into your home.
DUCT CLEANING FOR BETTER BREATHING
RECOMMENDATIONS FOR BETTER AIR QUALITY
Air duct cleaning is recommended for health reasons. According to a Wikipedia article, indoor pollution is known to cause asthma, allergies and cancer.
According to the same article, we spend 80% to 90% of our lives indoors, an issue that is currently under intense study throughout the world. One duct cleaning is valid for a period that varies between three and seven years. The frequency required depends on how regularly the premises are maintained but also on the health and lifestyle of the occupants. If you or any of your loved ones have problems with allergies or other breathing difficulties, frequent cleaning will be helpful.
Similarly, with pets, the system can get clogged more quickly.
FURNACE DUCT CLEANING AND SYSTEM FUNCTIONING 
Duct cleaning is also a proven solution for the long-term functioning of your heating and air conditioning systems.
In addition, some companies that sell these systems require air ducts to be cleaned before installing a furnace so that the system warranty is valid.
We recommend that you keep your duct cleaning invoice among your documents.
DUCT CLEANING WHEN PURCHASING OR RENOVATING A RESIDENCE
Duct cleaning is also recommended when buying a home, whether it is new or not, and after renovation, moisture problems, water damage or fire. In addition to these special situations, cleaning once every five years provides healthier air in the building.
DUCT CLEANING ALSO PROVIDES OTHER ADVANTAGES
FIRE PREVENTION AND ENERGY SAVING
A dryer duct eventually gets clogged with lint, which is a known cause of fire. When the duct gets dirty, it is more difficult to evacuate moisture and the unit can overheat during the drying cycle.
Making your dryer work harder also makes your electricity bills rise. Consider having your dryer duct cleaned during our visit!
DUCT AND FULL SYSTEM CLEANING
OUR CLEANING SERVICE INCLUDES ALL COMPONENTS OF YOUR AIR SYSTEM
Our duct cleaning service always includes all parts of your system:
Air outlet cleaning
Air return cleaning
Furnace cleaning
Filter cleaning
Vent cleaning
Fan cleaning
Fumigation and / or disinfection of the system if necessary (with natural thyme extract)
Wall air conditioner cleaning
Coil cleaning
There are many good reasons to choose the duct cleaning service provided by Nettoyage Experts. Our truck mount power, experienced team and satisfaction guarantee are all reasons to choose Nettoyage Experts, not to mention our advantageous promotions.  Take a look to all of our cleaning services.
Make an appointment in minutes and get back to business
Call us to plan your residential or commercial duct cleaning. Ask for your free estimate over the phone or through our contact form. See you soon for an impeccable cleaning of your ducts.  To finish with indoor dust you might be interested in our couch cleaning service.
FREQUENT QUESTIONS ON DUCT CLEANING
HOW IS DUCT CLEANING DONE?

We use the best method and equipment to clean your ducts – drive, friction and suction channelled directly from our truck mount
The process is simple. A technician introduces a small rubber octopus into your air ducts, which turns at high speed while blowing a powerful air jet. This instrument dislodges and pushes down the dirt in the ducts and bends, allowing for a complete cleaning of your entire system.
The octopus will brush and blow dust toward the suction hose, which is installed near your furnace or on the main air return and connected to the truck mount.
The truck mount is equipped with the most powerful existing dust collection model, so all the dirt in your system is sucked directly into the truck.
IS DUCT CLEANING IMPORTANT FOR YOUR HEALTH?

Health Canada recently conducted a study of household dust in 1,000 homes across Canada.
The results are alarming and air duct cleaning becomes a priority for your health in light of the results of this study.
In summary, household dust in Canadian homes is carcinogenic and contains heavy metals. Dust can also cause neurological and respiratory problems, as well as damage to the central nervous system, endocrine system, vital organs, and the reproductive system. In short, we can only accurately measure damaging effects of these pollutants on the population in about 20 or 30 years – much like the impact of cigarettes in the 1970s.
Children are at 10 times greater risk. For more information, visit Health Canada's website.
DO YOU MAKE HOLES IN THE WALLS TO CLEAN THE DUCTS?
No, there are no holes made in the walls; we proceed through the duct openings.
WHEN IS IT RECOMMENDED TO CLEAN DUCTS?
When they have not been cleaned for a long time, if you have just renovated the house, if you have just bought the house, or if you have had water damage or a fire.
If you experience respiratory problems; otherwise, once every three years, ideally, for proper maintenance.
What is the wait time for an appointment?
Generally, about a week.
How much do your services cost?
The price is about $300 to $400 depending on your system. Our service includes cleaning of the furnace interior, blade fans, air returns, grilles, and more.
We can easily provide you with an estimate over the phone. We work only with a truck mount.
We do not offer a partial system cleaning service, as we believe the complete system should be cleaned.
For this reason, we do not offer partial price estimates for ducts, returns, the furnace or blower like other companies.
DO YOU DISINFECT THE DUCTS?
Yes, if requested by the customer, we will fumigate using a natural disinfectant after the cleaning. This is especially recommended following water damage to ensure that all mould spores that may have formed are removed.
Do you have any guarantees?
All our work is guaranteed. If a job has not been done well, we will return without charge.
Ask for your free estimate we will pay the taxes.
DUCT CLEANING :
TESTIMONIALS

DUCT CLEANING, TOWN OF MOUNT-ROYAL
"We chose Nettoyage Experts to perform a first duct cleaning after purchasing our home. We appreciated their professionalism. They are super well equipped!
Our house was renovated and there was still gypsum dust in the ducts. They showed us the inside of the ducts before and after cleaning. They took care while working. They are a good company."
Mr. Francoeur, Town of Mount Royal
Dryer duct and bathroom cleaning
"We had the dryer and bathroom ducts cleaned. We had changed the washer and dryer. When they removed the old dryer, the delivery people told us that the hose was terribly dirty and that it would put unnecessary strain on the new dryer.
We found Nettoyage Experts on the Internet and they came to do the cleaning. They are very professional, and we took the opportunity to clean the fan duct in the bathroom. We are very satisfied."
Julien Latraverse, Montreal
Air exchanger cleaning
"I called Nettoyage Experts to clean the air exchanger ducts in my condo. It's quite a bit of work and I didn't know who to call. I saw their website, called them and had an appointment in two minutes. They gave me a good rate and prompt service. I am very pleased."
Édith Lacroix, St-Jean-sur-Richelieu
Duct cleaning, Terrebonne
"We clean the ducts every five years, and we are satisfied with the service of Nettoyage Experts. Previously, people who came to do the work had to install a machine in the basement to provide suction to the ducts.
We were still a bit worried about our wooden stairs. Nettoyage Experts uses a truck mount to suck dust directly out of the house. They passed the hose through a small window in the basement. Their process really won us over. We will call them again."
Justin B., Terrebonne
Commercial duct cleaning, Laval
"We entrust the cleaning of our commercial ventilation ducts to Nettoyage Experts every three years. They know the job well and take the time to do it right. Their commercial duct cleaning equipment is really powerful. They have done our ducts twice, and I recommend them without hesitation."
Marcel, Laval
Duct cleaning, Blainville
"We have lived here for 14 years and have never cleaned the ducts. After hearing about this service on a television program, I was curious enough to look at my air ducts with a small lamp. They were full of dust.
My husband opened the furnace and you could see that it was also dirty, and that the fan's blades were dirty. We called on Nettoyage Experts and they did an excellent cleaning job. The dirty fan was removed and cleaned at high pressure in front of the house. The interior of the furnace was soaped and each air duct was meticulously cleaned. They are conscientious workers and we recommend them."
Mr. and Mrs Bolduc, Blainville
Duct cleaning, Mascouche
"We have an asthmatic daughter who is allergic to dust mites and we clean the ducts every year. The vacuum is passed throughout the house twice a week and there is never any dust in the house. For us, it is a question of prevention. Every year, when Nettoyage Experts comes to do our cleaning, they find that the ducts are pretty much clean, but they take the time to do the work properly. This lasts about four hours.
We do not want the ducts to become dirty; we want them to stay clean. Nettoyage Experts respects our request and carries out meticulous work each time. We know that we can trust them – for us, it is a simple preventive measure for the health of our child."
Mr. Pascal, Mascouche
Duct cleaning, Sainte Thérèse 
"We decided to clean the ducts. My husband made a few calls to check prices and how serious the companies were. He is an engineer; he knows buildings well. He chose Nettoyage Experts because the prices were competitive."
Lucille, B., Sainte Thérèse
DUCT CLEANING
"Cleaning the ducts was something we did after buying our house that was well worth it. The Nettoyage Experts men were especially nice – using a camera, they showed us the interior of our ducts before and after cleaning. I can tell you that we didn't do this cleaning for nothing! "
Ned Marcelin, Terrebonne
VENTILATION CLEANING
"Our neighbours who had hired Nettoyage Experts recommended we clean our ducts. Our houses were all built in the 1980s and I think most people on my street never had the ventilation cleaned. Neighbours told us that the amount of dust evacuated through duct cleaning was terrible to see, so we decided to do it too..."
Mr. Jean L., Val Bélair
AIR EXCHANGER CLEANING
"The condominium administration asked for estimates for cleaning the air exchangers in the 12 units. Nettoyage Experts provided a very reasonable estimate and also made the best impression with their proposal. We chose them on the basis of these two criteria and we have had very good service."
Ms Hurteau, Repentigny
VENTILATION SYSTEM CLEANING
"Greetings to the competent staff of Nettoyage Experts – they thoroughly cleaned our ventilation system. All components of the system were well cleaned, like the fan they pulled out to clean with high-pressure water. They even offered to do the dryer for free."
Don Vidal, Montreal
Duct cleaning, Gatineau
"Thank you for a job well done and the honest prices of Nettoyage Experts in Gatineau for our duct cleaning. We will recommend you to others and keep your business card for future cleanings."
Suzie Godbout, Gatineau
Duct cleaning
"Duct cleaning helped us eliminate dust in the house. Since the renovations three years ago, we have never managed to get rid of that fine white dust that constantly returns in the house. Cleaning the air ducts and replacing our filter with a new, more efficient model solved our problem."
Mr. Boisvert, Mount-Royal
VENTILATION DUCT CLEANING
"To all those who are hesitating to clean ventilation ducts I would say wait no longer. Whatever the reason you're evaluating this possibility I believe that all of them are good. For a year, my wife's nose was always irritated in the morning. Two weeks after cleaning the ventilation ducts, the symptoms stopped. We should not have waited."
Robert Binette, St-Laurent
Duct cleaning, Montréal
"Hello, we live in Montreal. Nettoyage Experts was hired to clean the ducts where I work. I took the phone number and called them for my home. They are very good."
Yan, Montreal
A cleaning team that's a breath of fresh air
"When they arrived, they joked, "You'll see, we're a breath of fresh air." We saw what they meant after they started the operation: The cleaning method blows and draws air from one end to the other of all the ventilation ducts. The airflow through the ducts was amazingly powerful; my husband, who is an engineer, was fascinated. He told me that he didn't know such cleaning machines existed. The airflow in the ducts, along with the action of a brush at the end of a rod introduced into the ducts effectively displaces air. The debris can be heard passing through the large suction hose to the truck at an impressive speed. We will have our ducts cleaned every three years – with such service, it's worth it, and we would never consider calling anyone else. In addition, they are not the most expensive. A really great discovery that we wish to share with all the readers here. Thank you."
Stéphane and Claude, Montreal North Shore.
Duct Cleaning Montreal and Quebec city area:
Duct Cleaning Montréal:

Ahuntsic-Cartierville
Nettoyage conduit ventilation Anjou
Côte-des-Neiges–Notre-Dame-de-Grâce
Lachine
LaSalle
Le Plateau-Mont-Royal
Le Sud-Ouest
L'Île-Bizard–Sainte-Geneviève
Mercier–Hochelaga-Maisonneuve
Montréal-Nord
Nettoyage conduit ventillation Outremont
Pierrefonds-Roxboro
Rivière-des-Prairies–Pointe-aux-Trembles
Rosemont–La Petite-Patrie
Saint-Laurent
Saint-Léonard
Verdun
Ville-Marie
Villeray–Saint-Michel–Parc-Extension

Duct Cleaning Laval:

Auteuil
Chomedey
Duvernay
Fabreville
Îles-Laval
Laval-des-Rapides
Laval-sur-le-Lac
Laval-Ouest
Pont-Viau
Sainte-Rose
Sainte-Dorothée
Saint-François
Saint-Vincent-de-Paul
Vimont

Duct Cleaning North-Shore:

Blainville
Bois-des-Filion
Boisbriand
Deux-Montagnes
Lorraine
Mirabel
Oka
Pointe-Calumet
Rosemère
Saint-Eustache
Saint-Joseph-du-Lac
Sainte-Anne-des-Plaines
Sainte-Marthe-sur-le-Lac
Sainte-Thérèse
Charlemagne
L'Assomption
Mascouche
Repentigny
Saint-Sulpice
L'Épiphanie
Terrebonne

Duct Cleaning South-Shore:

Nettoyage conduit ventilation rive sud
Belœil
Boucherville
Brossard
Candiac
Carignan
Chambly
Châteauguay
Contrecœur
Delson
Kahnawake
La Prairie
Longueuil
McMasterville
Mont-Saint-Hilaire
Otterburn Park
Saint-Amable
Saint-Antoine-sur-Richelieu
Saint-Basile-le-Grand
Saint-Bruno-de-Montarville
Sainte-Catherine
Saint-Constant
Saint-Isidore
Sainte-Julie
Saint-Lambert
Saint-Marc-sur-Richelieu
Saint-Mathias-sur-Richelieu
Saint-Mathieu
Saint-Philippe
Varennes

Duct Cleaning Québec:

La Cité–Limoilou
Les Rivières
Sainte-Foy–Sillery–Cap-Rouge
Charlesbourg
Beauport
La Haute-Saint-Charles