Nettoyage Experts offers a full range of commercial cleaning services designed to meet the diverse needs of business clients, as well as public administrations.
Offices, retail, hotels, etc.: Our services are available 7/7 day and evening to meet the needs of your business. Call us or fill out an online request for your free quote
COMPLETE COMMERCIAL CLEANING
Our commercial cleaning services include floor cleaning: Commercial carpet, ceramic, linoleum, stripping and polishing of commercial floors. We also have teams for window washing, duct cleaning, high pressure cleaning of exterior surfaces, graffiti cleaning, painting, and complete cleaning.
COMMERCIAL CLEANING EQUIPMENT AND STAFF
Our experience has allowed us to acquire a customized customer approach for each commercial cleaning contract. The name of our company reflects our strength and the expertise of our teams.
In addition to our competence and customer service, we have a large arsenal of the most efficient equipment and the best selection of products.
COMMERCIAL CARPET CLEANING
The most effective and affordable carpet cleaning
Commercial carpet cleaning by truck mount steam / extraction or portable equipment. To learn more, visit our main page on commercial carpet cleaning.
Powerful, efficient, fast, and affordable up to 8 floors per truck mount or with the most powerful portable equipment on the market for buildings over 8 floors.
Non-toxic, biodegradable cleaning products. Several teams available 7 days out of 7 and 24/24. Capacity of several thousand square feet per hour. Free estimate, demonstration available.
COMMERCIAL FLOOR CLEANING
Floor cleaning and polishing
Powerful cleaning process for all types of hard surface floors. Stripping of old layers of wax by rotary brushing, rinsing and suction via a truck mount. Polishing with electric or propane polisher.
Whatever the condition of your floor, whether it requires a light polishing or old wax stripping, our over 30 years of expertise in the field of floor polishing is there to ensure your floors are beautiful.
COMMERCIAL CERAMIC CLEANING
High-pressure cleaning of horizontal or vertical ceramic surfaces and joints. High-pressure jet process at 250 degrees F. Application of sealant to facilitate the maintenance of your ceramic joints. Service appreciated by retailers and agri-businesses.
COMMERCIAL WINDOW WASHING
Window washing with cranes and aerial platforms
Efficient and meticulous commercial indoor and outdoor window washing at competitive prices. Free estimate. All kinds of contracts – you can rely on our specialized teams of professional window washers.
DUCT CLEANING
Cleaning of ventilation ducts. More precisely at the commercial level.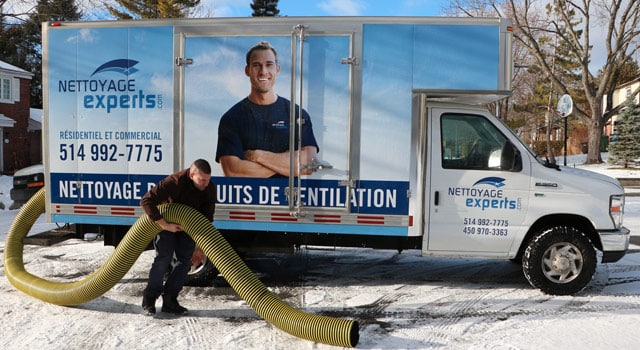 We offer a state-of-the-art commercial duct cleaning service with the most powerful truck mounts and experienced technicians.
Ambient air quality in the workplace is one of the most studied subjects in the world in recent years. The importance of cleaning your ventilation system ducts is definitely a priority.
If you do a little research, you will find thousands of studies on the subject. Our team of duct cleaning experts guarantees an unparalleled service for all types of ventilation systems in buildings of all sizes.
COMMERCIAL CLEANING AND WASHING
HOT PRESSURE WASH
Our high-pressure cleaning service allows for the restoration of commercial building facades, sidewalks, parking lots, and more.
All the hard surfaces of your building and its outbuildings can be renewed – the power of high-pressure heat cleaning will give you the results you expect.
High pressure cleaning of machinery and commercial vehicles
Our pressure cleaning service is also available 12 months a year to clean your fleets of trucks, farm machinery and other types of vehicles. We also offer a de-icing service for your equipment.
Cleaning graffiti
Graffiti vandalism degrades the appearance of buildings or even whole neighbourhoods. Our graffiti cleaning experts work for cities and school boards, as well as for private businesses. Free estimate, fast and efficient service.
COMMERCIAL CONSTRUCTION SITE CLEANING
END OF CONSTRUCTION COMMERCIAL CLEANING TEAM
After renovating your commercial facilities, do not waste time in calling our cleaning service. We will deploy a team as large as necessary with the right equipment and products for impeccable and fast work.
POST-CONSTRUCTION OR RENOVATION CLEANING
During construction, time is of the essence, and even if the work is not complete, cleaning is necessary before the installation of flooring.
A cleaning team equipped with commercial vacuums can take care of this and save your floor installers time.
You can also entrust us with the final cleaning to deliver a turnkey, impeccably clean project to your customers.
FINALLY, a COMMERCIAL CLEANING SOLUTION!
For all your commercial cleaning projects, call Nettoyage Experts!
For details of all our services, visit our main cleaning page. Our industrial cleaning page may also be of interest to you.